Ref:
Date:
Location:
Artist:
Ref:
Date:
Location:
Artist:
December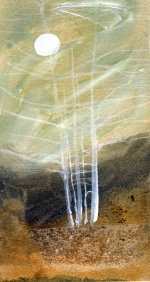 Lovely moonlight to shorten the darkest days. Frosted trees, blue skies, silhouetted branches, and after sketching in the chill a good reason to come inside to the stove for some mulled wine to warm and celebrate the season.
Creative workshops - drop in events for Christmas Dream Catchers all ages 8 to 88! - younger folk can help an adult.
please get in touch for dates & times sessions run on Tuesdays Wednesdays Thursdays
With the welcome ban on microbeads in 2018 it's great we can celebrate the season with eco-glitter, made from biodegradable film that is certified compostable. The glitter is just as holographic as regular PET (plastic) based glitter. We all need a little sparkle at times!